Since its construction, the structure has been designed with respect for the environment and built in such a way to harmonize the secular pines and the dune course of the land in order to safeguard and protect the beautiful natural surrounds the Residence.
Therefore we have made a long journey that began in 1980, when, thanks to a contribution from the Tuscany Region, the Residence Casa di Caccia became the first tourist facility equipped with a solar thermal system for the production of hot water.
Ten years later, in 1990, the old diesel oil burner was replaced with a high-performance LPG boiler and at the same time the old underground diesel tank was removed, due to it could have heavily contaminated the environment.
Since the late 90's began a gradual and continuous process of renewal of the apartments providing them with better furniture, replacing the electrical and plumbing installations with solutions that allow a better environmental impact, while in 2000 the solar system for the production of hot water was completely replaced with brand new one.
In 2007 we decided to obtain the ISO 14001: 2004 certification (Certificate Nº 9191 RCDC), in order to have an official recognition of the "how" the company is managed in relation to beautiful environment that surrounds it, not renewed in 2015 due to costs reduction.
In the October 2010 a 10.5 kW photovoltaic plant was installed the and the followinf year the Residence Casa di Caccia has obtained the Ecolabel certification, a further recognition of the goodness of our work for the environment.
In the following years there have been small technical improvements, such as the introduction of flow reducers on all water utilities, and the installation of energy saving lamps.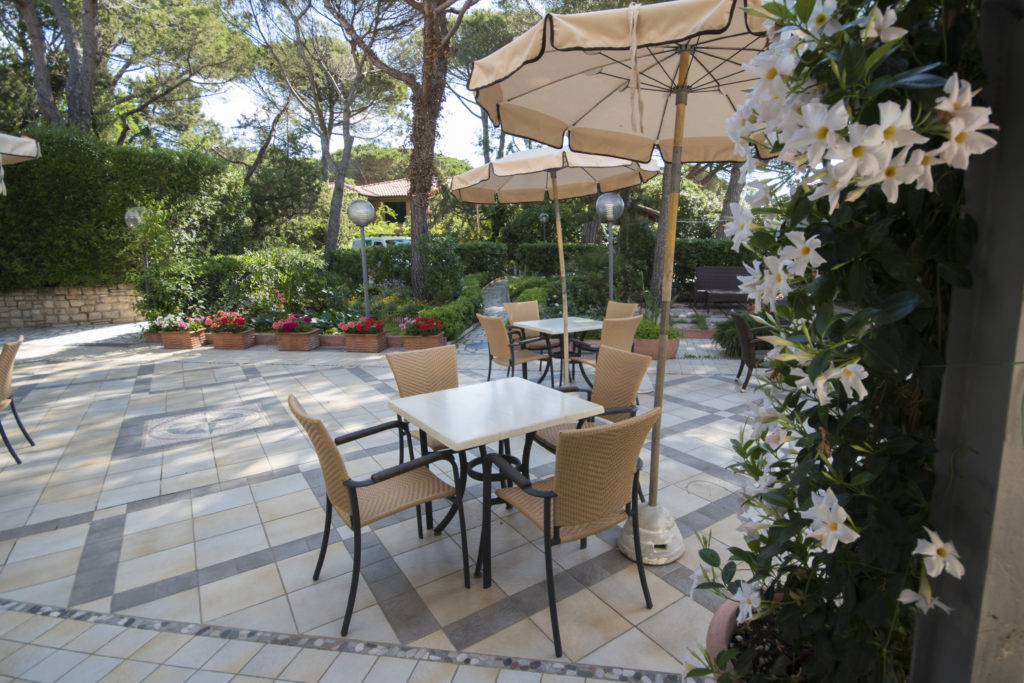 Today we still continue this journey to safeguard the beautiful
environment that surrounds us using renewable sources. Actually the
water is heated by solar panels integrated by a gas centralized heating
system and a large part of the electricity is produced by the new
photovoltaic system.
Nowadays we have 55% of Italian customers and the remaining 45% of foreign customers, mainly German-speaking.
We have 65% of regular customers who come back to visit us every year, and this is perhaps why, more and more often, we hear our customers say upon their arrival: "here we are again at home".
This is undoubtedly our best reward and a sign that we have done our job well